So this is my first blog post and I honestly had no idea where to start.  Really, who even cares what I have to say about anything??  I am a total introvert and tend to avoid bringing attention to myself, so this is really out of the box for me.  Please be kind...
I've been thinking about what I should write and the one thing that has been on my mind more than anything lately is Chino.
Chino was our soulmate in dog form, our heart dog, and we chose to let him go on January 31st.  It was the most difficult decision of our lives and we still think of him every day, sometimes many times a day.  He was essentially our first child and was a huge part of our lives.
He was born on April 19th, 2001 and would have been 15 years old today.  I thought it was fitting to start this blog with his story on his birthday. 

We brought Chino home on a warm May night...he was only five weeks old.  We weren't planning on going home with a puppy.  In fact, the person we got him from was a work acquaintance of my husband's and had been inviting him to hang out/see the recording studio in his home for a long time.  The fact that there were puppies involved finally made us accept the invitation.  No one can resist puppies...or at least I can't.

I remember meeting Chino's parent's first - both pit bulls, his dad was intimidating and quite large (I think 115lbs), and his mom was a sweetheart.  The puppies were in a shed in the backyard and had been taken away from mom because she bit one of them.  Later I would come to find out why.  We walked to the shed and I saw several little white puppies jumping and competing for attention.  Then I looked in farther and there was one little guy minding his own business, turned the opposite direction, scratching his ear.  "I want that one," I said.  And that was it. 

We stayed a while and hung out with our new little guy, so silly and cute - I'd never laid eyes on a cuter puppy.  As we were leaving we discussed his name and when the car started, the Deftones came on.  My husband asked, "What about Chino?"  And that was it, we named him after the lead singer of the Deftones, Chino Moreno.  Later we would end up calling him string of nicknames but he will always be our Sugar Bear.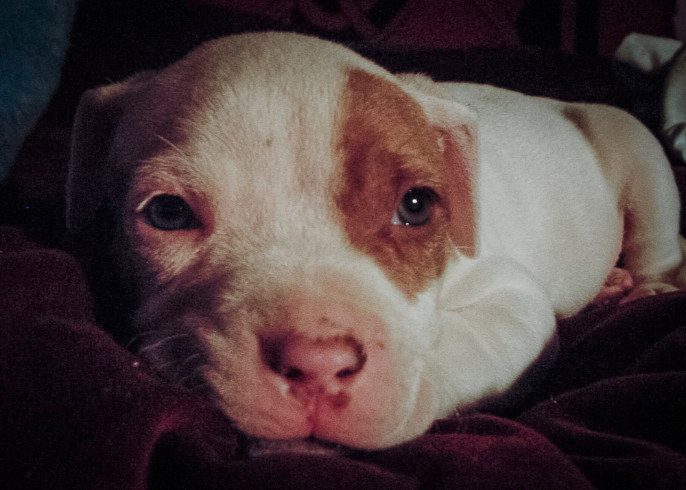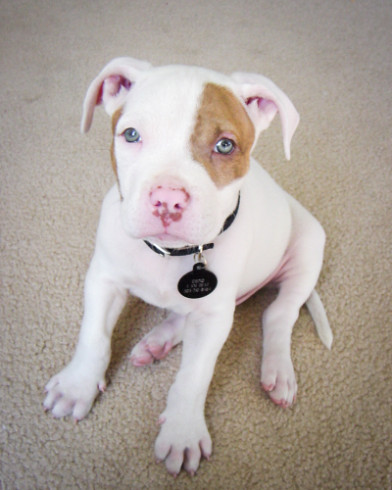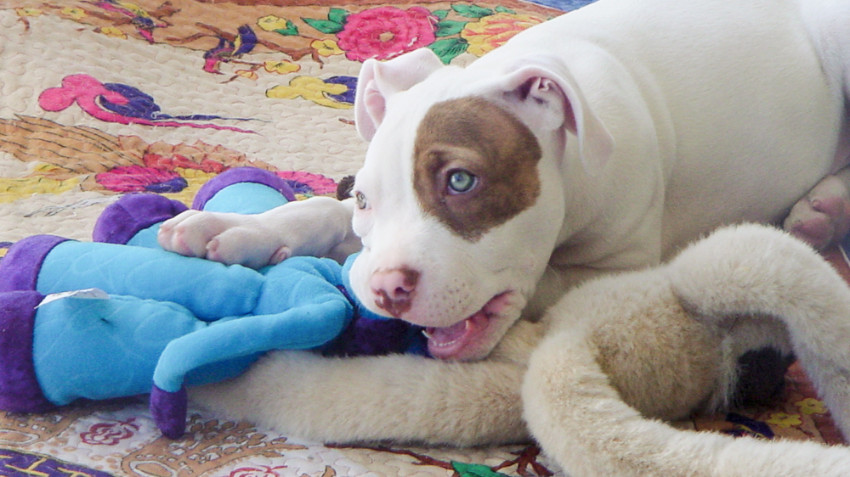 A couple weeks into having him, we started to wonder about his hearing.  He never came when called and slept like the dead.  At first, we just figured that he didn't know his name yet.  But when I did the hair dryer test, he passed with flying colors - didn't react at all.  That made me stop to think...what if he were deaf, what would that mean?  At that point, I only knew that people tended to euthanize deaf dogs and I knew even less about the breed.  So, we did a test.  We took out a spoon and pot, and when he was sleeping soundly, we banged that spoon on the pot.  He didn't wake up right away, there was a several second delay before he woke up.  Later we would learn that he felt the vibration of the noise, but at that point, all we knew was that he was deaf and we had no idea what we were going to do.

So naturally, I cried...and cried.  And then we made the decision that there was no way we'd give him up and I set off to educate myself.  I went online and researched the hell out of deaf dogs.  And I felt better.  I learned that dogs actually learn hand signals easier than they do voice commands...we could teach him sign language!  So I looked up the American Sign Language dictionary and we started our journey with Chino the deaf pit bull.
 
Eventually we came to find out that his mother was also deaf and that Chino was the only puppy in the litter that was also.  Saldy they knew this and bred her anyway.  We were told it was because she was deaf that she bit her puppy.  Apparently, he was coming up to nurse and she didn't know it until he was on her.  She got startled and bit the little guy.  Eventually the FBI apprehended the owner of the dogs for something he had done in Las Vegas and his girlfriend took the puppies back to Texas where they all ended up dying from Parvo.  We truly believe he was meant to be with us.  

It was a glorious 14 years.  He was the best dog either of us ever had and here are some of my favorite things about him:

His ear flipped over for a few months for no apparent reason.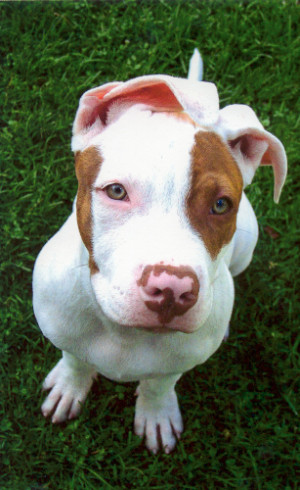 He loved his best friend, Opie - a miniature Schnauzer, and licked his face clean on the regular.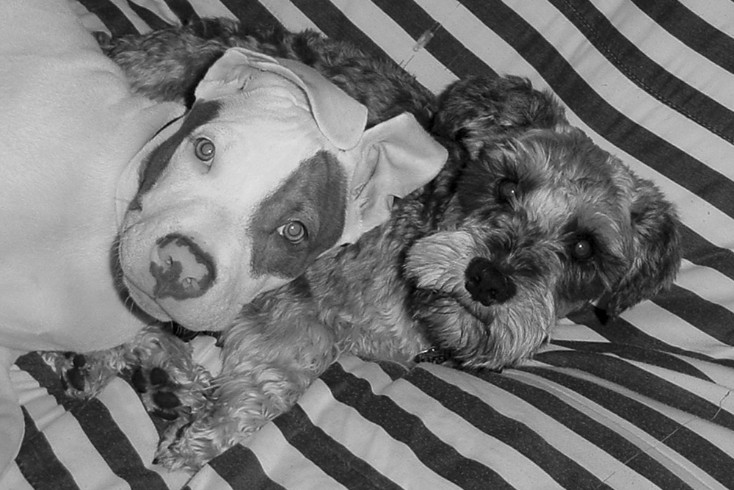 He was raised with cats and took on many of their mannerisms, including grooming.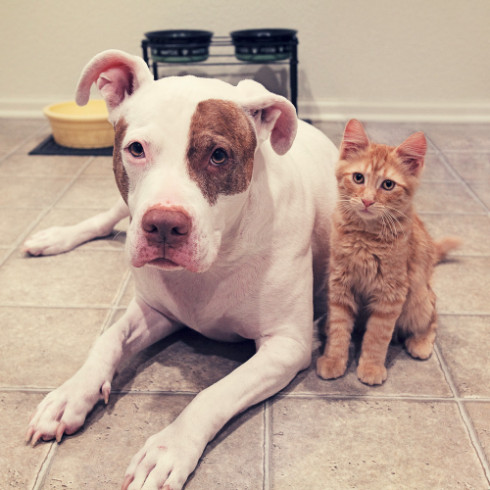 He loved all people, especially kids.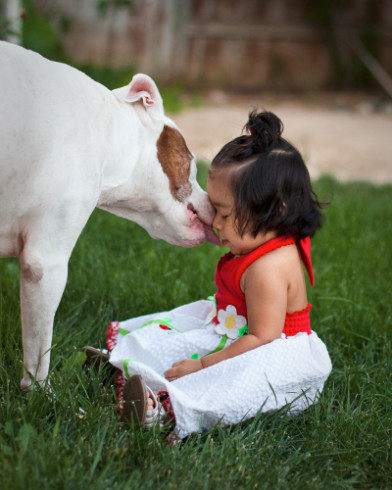 He slept late and hardly ever barked, and when he did he usually startled himself.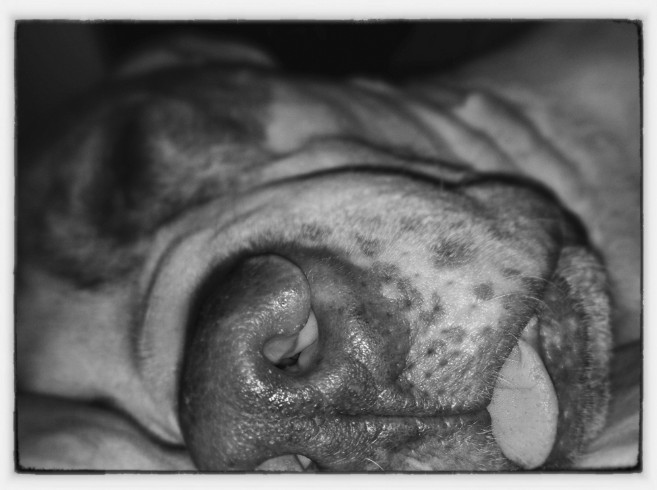 He loved to swim and be in the water.  If there was a puddle on the street, he'd be in it.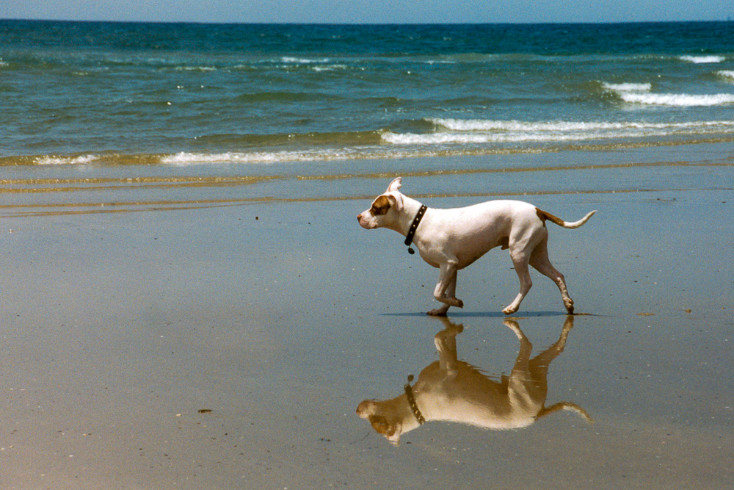 He loved tennis balls, soccer balls, and Frisbees.  He went to the park almost every day until he was too old to run anymore, and then he went to cheer Emma (another pit bull we adopted in 2011) on.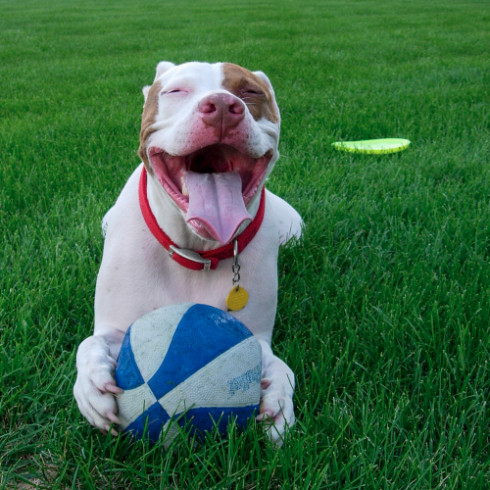 He always went for the biggest stick no matter what.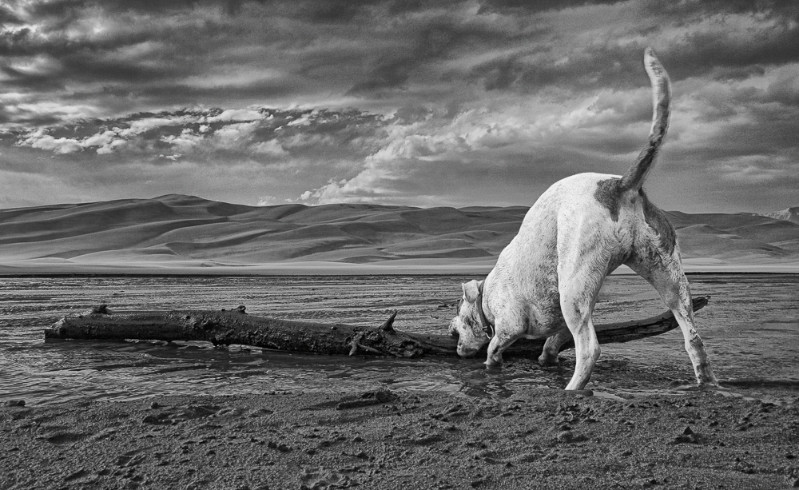 He loved cat feathers, another cat mannerism he adopted, and thought they were meant just for him.  This photo was only possible because of a cat feather.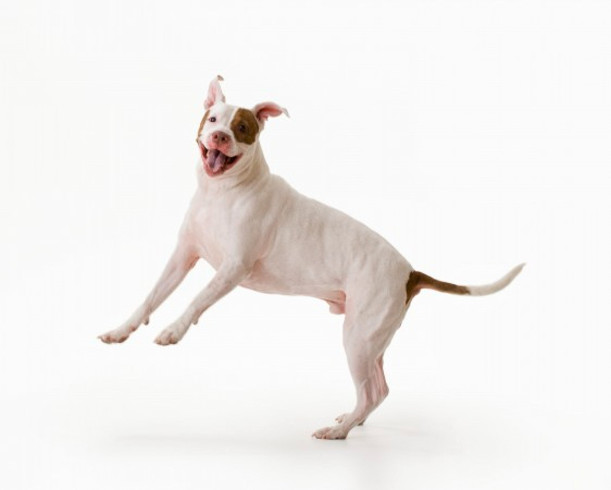 He was the best cuddler.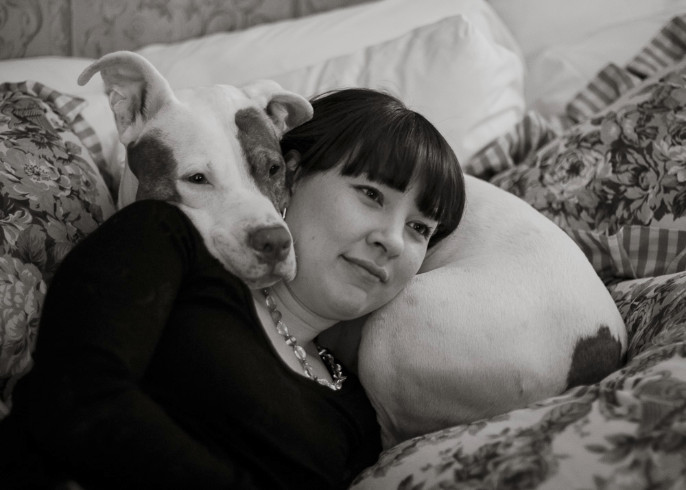 He always let me put things on his head and loved to wear clothes.  He even went through a period in his life where he wore a blanket like a cape every day.  It seemed like it gave him peace of mind when he was dealing with a possible nerve issue in his back.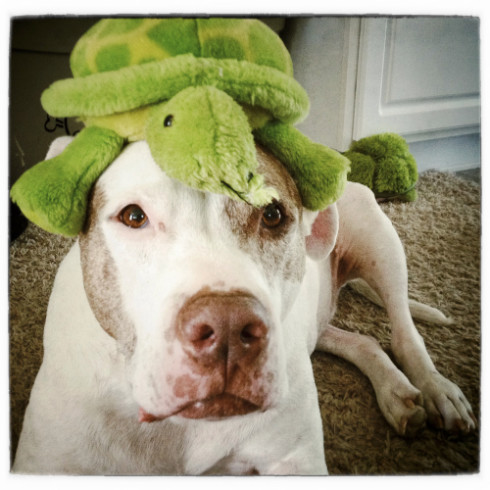 The look he gave me when I rubbed his belly and especially the wrinkles in his fur.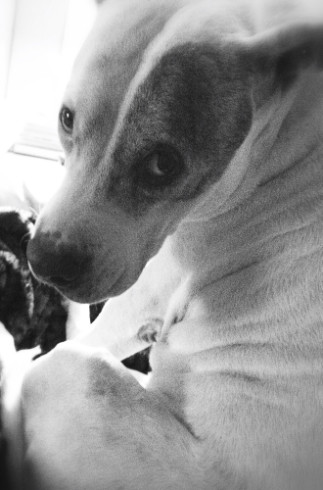 And of course, the joy and love he brought into our lives.

But with the good, comes the bad.  As I said before, I knew nothing about the breed.  I didn't know there was a stigma around the breed, that people fought them or what they were capable of.  I didn't even know that they were banned in several cities in the Denver metro area.  We were lucky we lived in Littleton at the time and honestly would have moved out of state if we had to.  We spent so many years putting up with people looking down on him, telling us that he'd turn on us, that he shouldn't be alive.  We dealt with people picking up their children or dogs and crossing the street when they saw us.  And it hurt so much I often ended up in tears.  I don't know how else to describe it except to say that it was like someone saying those terrible things about your own child.  I'm so thankful he never understood.
Chino went on to change minds about the breed and he gave us strength to deal with all the unkindness.  He is the reason we learned about the breed and came to love it.  We will always have a pit bull in our home, always.
In 2011, I photographed at the Humane Society of South Platte Valley as a favor to a dear friend.  I have to tell you that I do not photograph at rescues or shelters.  It's not because I don't care, it's because I care too much.  I choose to donate my services instead and that keeps me from becoming an animal horder.  As proof of this, I came across this beautiful dog who I photographed that day at the shelter and my dear friend convinced me to foster her.  We had only tried to have another dog once before and Chino ended up in the corner, refusing to eat or drink, within a week.  For most of his life, Chino was pretty indifferent to other dogs but as he got older we noticed he became very interested.  I used to take him to Petsmart during those super cold weeks in the winter, just to get out of the house, and when he was 10 years old he suddenly wanted to play with all the dogs...he could've been a greeter! 
We brought Emma home and after a few rough months, they became best friends.  She prolonged his life, kept him on his toes and made life more interesting for him.  He wanted to do everything she did and that kept him going.  And when it was time for him to leave this earth, she kept us going too.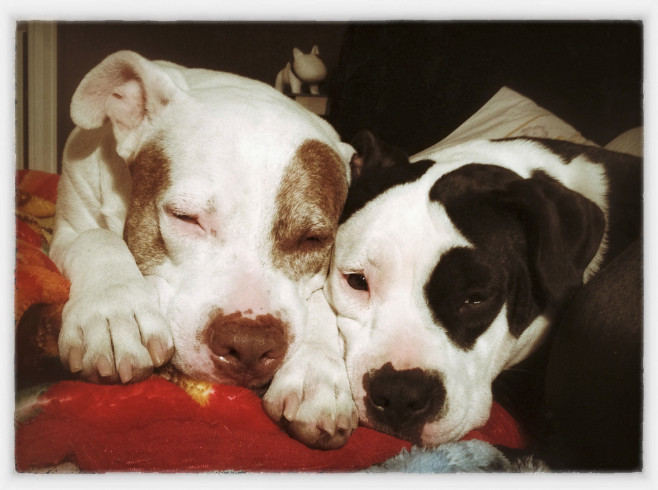 As Chino got older, he was diagnosed with Cushings - a tumor growing on his adrenal gland.  He also had arthritis on his spine and joints.  Slowly he lost muscle mass in his hind legs and began having troubles walking.  Sometimes he would be going down the steps and fall down the last one or try to jump off it and land on his butt.  In 2012, we returned to the Great Sand Dune National Park and I took this picture of him through teary eyes.  He literally had to lay down - it was too much for his aging body.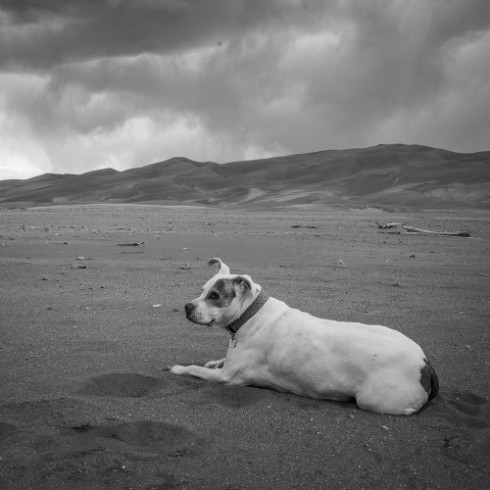 But amazingly enough, that aging body of his lasted another two years.  The last week of his life, he didn't get up when we got home...and he did that every single time, his entire life, unless he was sleeping.

On Saturday morning, January 30th, Chino didn't get out of bed.  It wasn't a rare occurrence; more often than not it took him a bit to get going in the morning.  My husband carried him down the stairs as he had every morning over the past few months.  I went about the morning as usual: getting the baby in her high chair and eating so I could take the dogs out and get them fed.  When I went to get Chino up, he couldn't get his back legs under him, they kept sliding out.  And then, he just starting pooping.  I began yelling for my husband and when he finally came down, Chino was laying on the floor, legs sprawled.  He picked Chino up to take him outside and a stream of pee arched through air onto the floor.  It kept going until he was done and my poor boy was mortified.  We took him outside but he could barely stand.  So we got him cleaned up and back into bed, all the while giving him lots of love so he knew he was a good boy and everything was okay. 
 I had a session that morning with a darling little Chocolate Lab puppy, which lifted my spirits.  But when I got back home, we took Chino out front (maybe a change of scenery would be nice) but he still couldn't stand, his poor back legs just couldn't support him.  My sister, who is a vet tech for large animals, came over to see him.  She saw how he was deteriorating and made the point that if something happened, he got seriously injured in a fall for example, he would be in terrible pain and it would be such a terrible way for him to go.
 It wasn't until 4pm that Saturday that he got up on his own.
 That evening, we searched our hearts, we researched online, and we talked to friends that had been through this.  Chino was our first dog; both of our parents had always taken care of the pets when it was their time.  (I wonder if we had been a part of those losses when we were growing up, if they would be easier to go through now. I'm guessing not.)  After researching and crying and talking and crying, we called the vet that helped my mom's dog, Chino's best friend, cross over the rainbow bridge.  We made an appointment for him to come to our home the next evening with the option of cancelling if Chino felt better in the morning.
When I took him out for a last potty before bed, I knew we had made the right decision.  I watched as he struggled to get around the backyard even with support from the GingerLead and myself.  A dog needs to stroll before he does his business, he needs to find the right spot or wait for the right urge, and my poor guy couldn't even walk long enough, or without help, to get his business done.  But more than anything, it was the fact that he was terrified and confused.  He couldn't understand why he couldn't walk and that killed us.  We couldn't keep him here just because we loved him.  It was because we loved him so much that we let him go.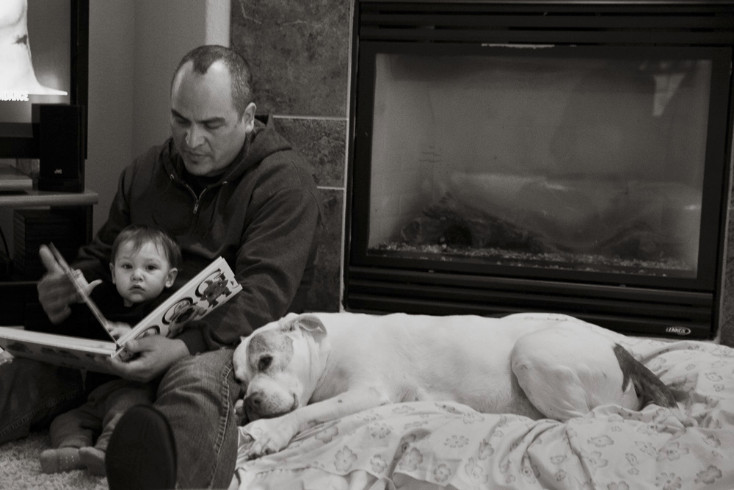 We spent the night in the living room on the floor with him and all of the next day giving him love and saying our good-byes.  Chino spent almost the entire day sleeping and enjoying the attention.  By the time the vet arrived, we were as ready as we could be.  My dear sister played with our daughter upstairs while the vet worked.  Our cat, Loki, was right there and Emma was hogging the attention of our guest, as she always does.  I remember holding him and feeling his muscles relax and I realized I hadn't felt him relax like that in such a long time.  Then he was gone, and our lives will never be the same without him.
 I don't think Emma realized what was happening until it was time for the vet to take Chino away.  When my husband helped pick him up, she got up and barked.  They set Chino down as she went to him and then I think she knew because she was depressed and hardly ate for the next week.  
 We were, and still are, heartbroken.  There is a large hole in our lives and hearts where he used to reside.  There are portraits and snapshots of him all over our home to remind us and they will always remain.  I will never forget that beautiful, sweet boy and I will always cherish every moment we had with him. 
 Can I just say that I am constantly amazed by animals??  They have such unconditional love and their feelings run deep.  I am so lucky to have so much love around me every day.  I am so thankful for my husband, our daughter, our three cats, and Emma, because I wouldn't be able to get through the day without them.
Here is how I will always remember him, happy and full of life.